> Kunsthalle Exnergasse Wien / Austria
*1991, lives and works in Krasnodar / Russia
* * * * * *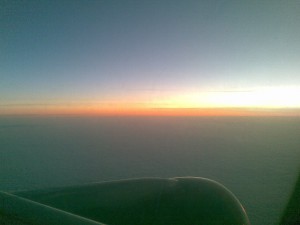 Arrival in Vienna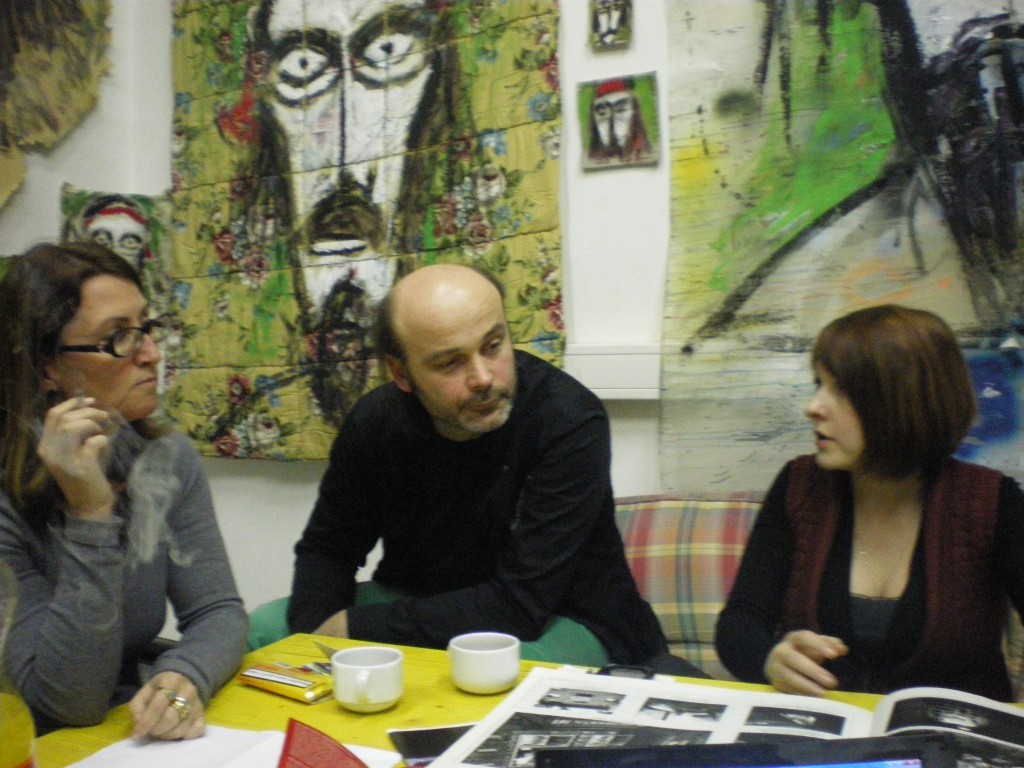 Meeting at the studio. We look at our catalog of group ZIP (Andrea, Klaus, Natasha)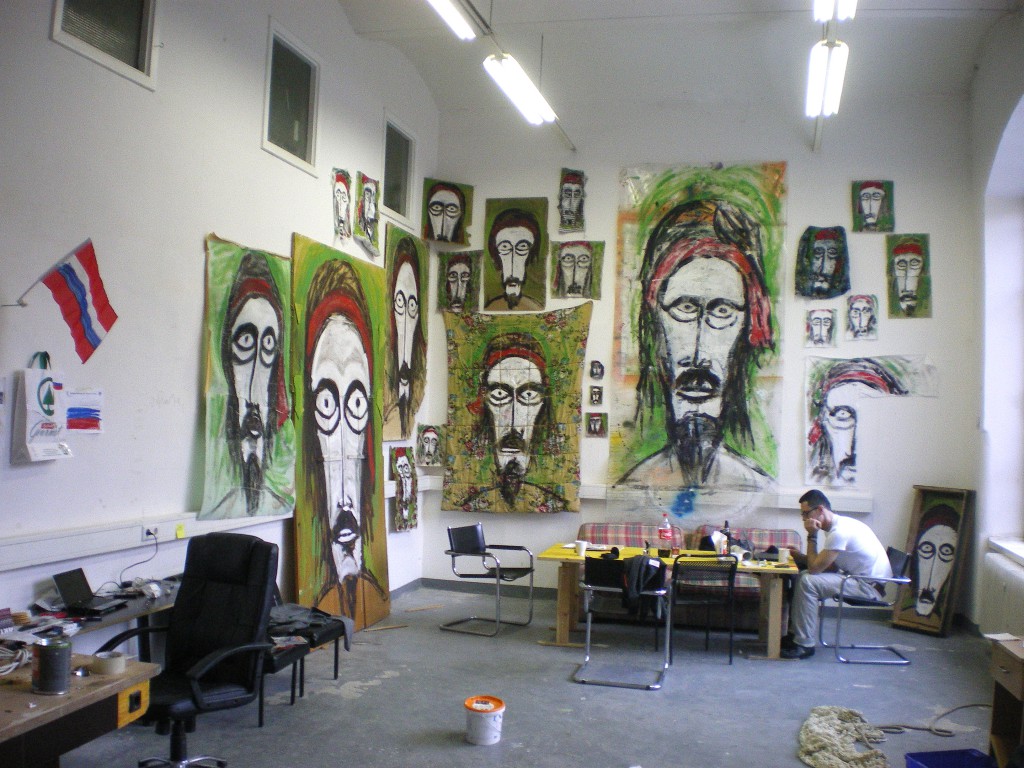 Studio in WUK. Workflow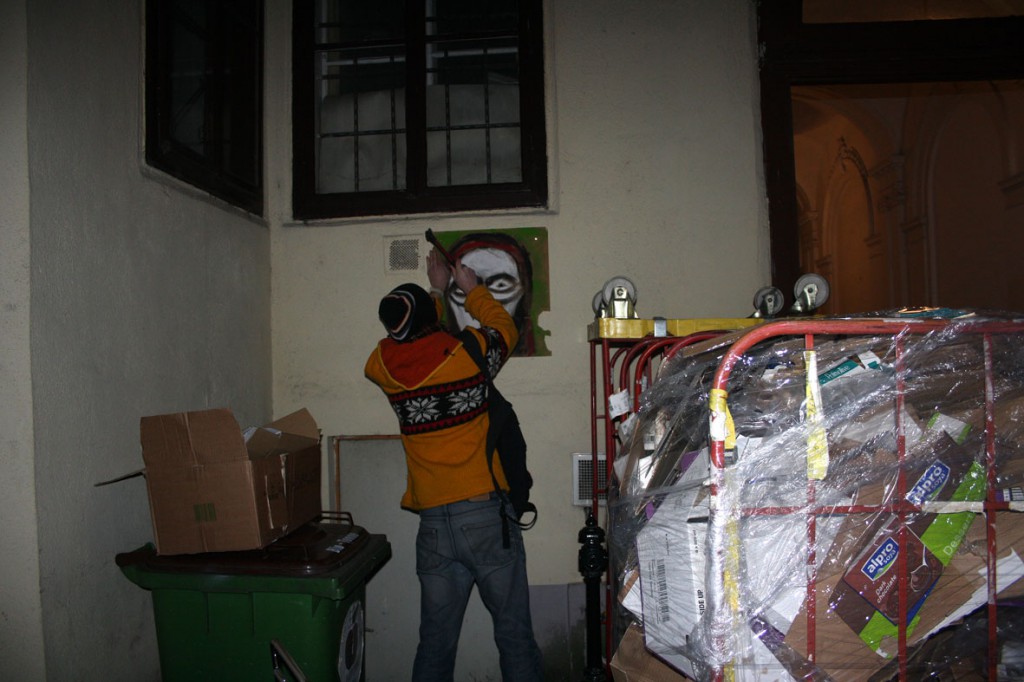 This Hippie, a series of artworks created on pieces of waste and showing a hippie in Slavonic iconographic style. The portrait is duplicated on different materials, using different techniques, but with the same colours and proportion. The artworks are exhibited in a public space as all the waste used for these art pieces was also public. Because of these reasons, this symbol of freedom – Hippie – returns today, at the time of global consumerism philosophy erasing national identity, as well as moral.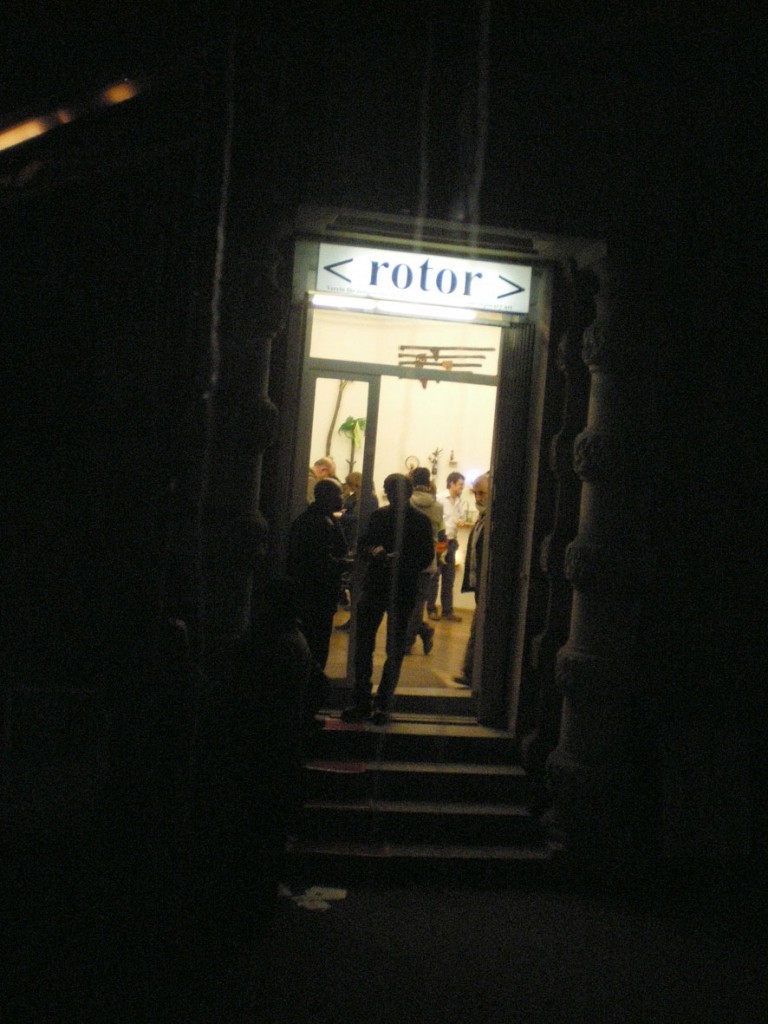 One day in Graz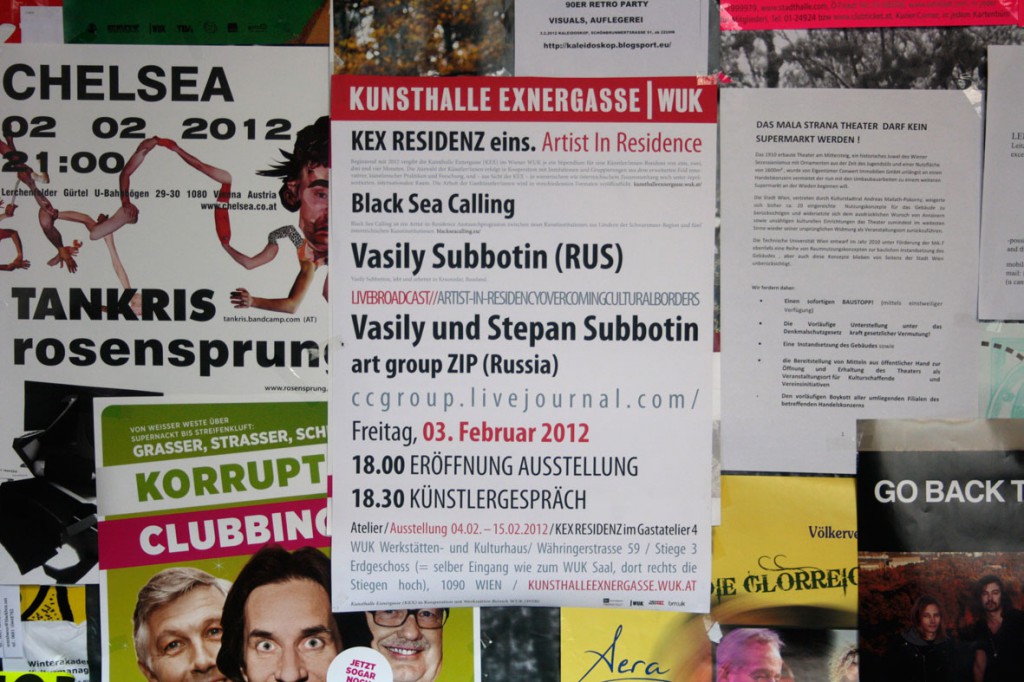 Poster exhibition in WUK (Vienna Academy of Art)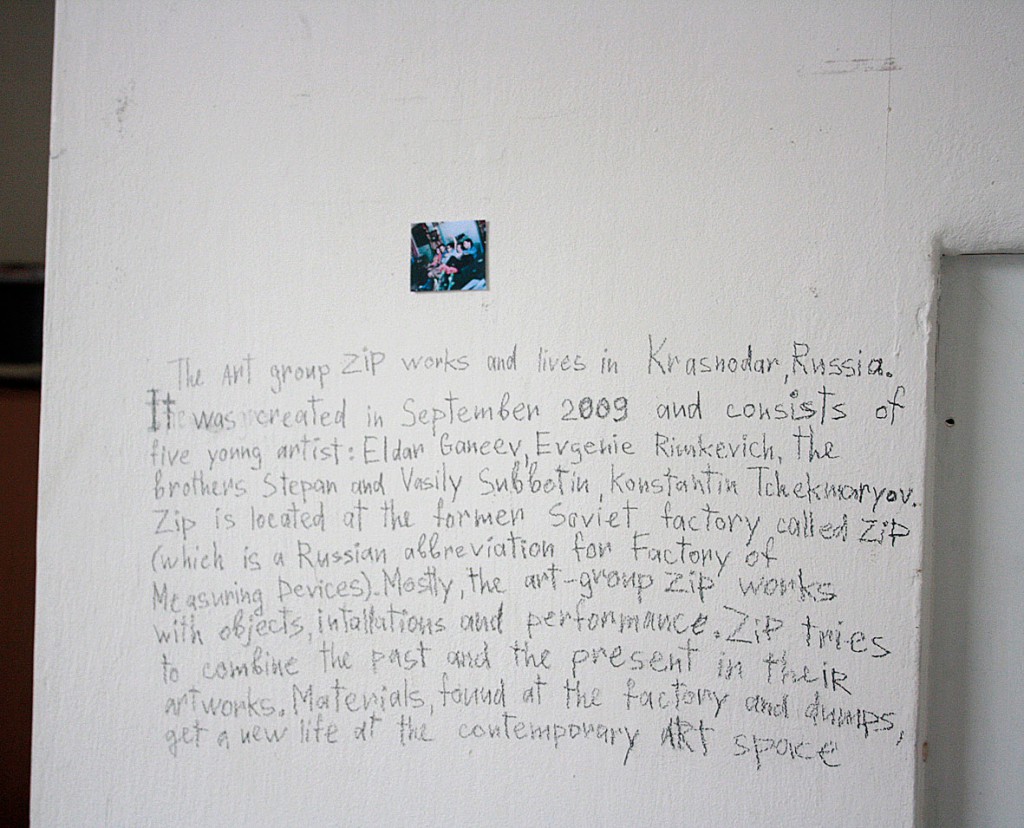 "Live Broadcast"
Krasnodar is a provincial Russian town. Today you cannot find any contemporary cultural institution there. Artistic activity is based on activism and self-organization. The old factory ZIP is the place where the group of artists decided to rent a space as an atelier and experimental art space. They founded the Institute of Contemporary Arts KISI which is engaged in social and educational development. The main idea behind KISI is to set up a modern contemporary environment in Krasnodar and to establish relations and exchange with other regions in Russia, former Soviet Republics and Europe. ZIP art is associated with the Post-Soviet area and the problem and challenge of being a "provincial artist" at this specific location. The art group ZIP is also practicing a socio-political actionism.
The exhibition at WUK is dedicated to the question of overcoming cultural border. It's not an easy task for the "provincial artist" to get involved and integrated into the global cultural space. Basically, in Russia it happens due to the lack of contemporary art institutions in regions. But this can be accepted as the way to stimulate self-organization processes which create a natural cultural environment as young artists have lots of opportunities to get information and communicate to the other art collectives worldwide.
http://www.wuk.at/event/id/15702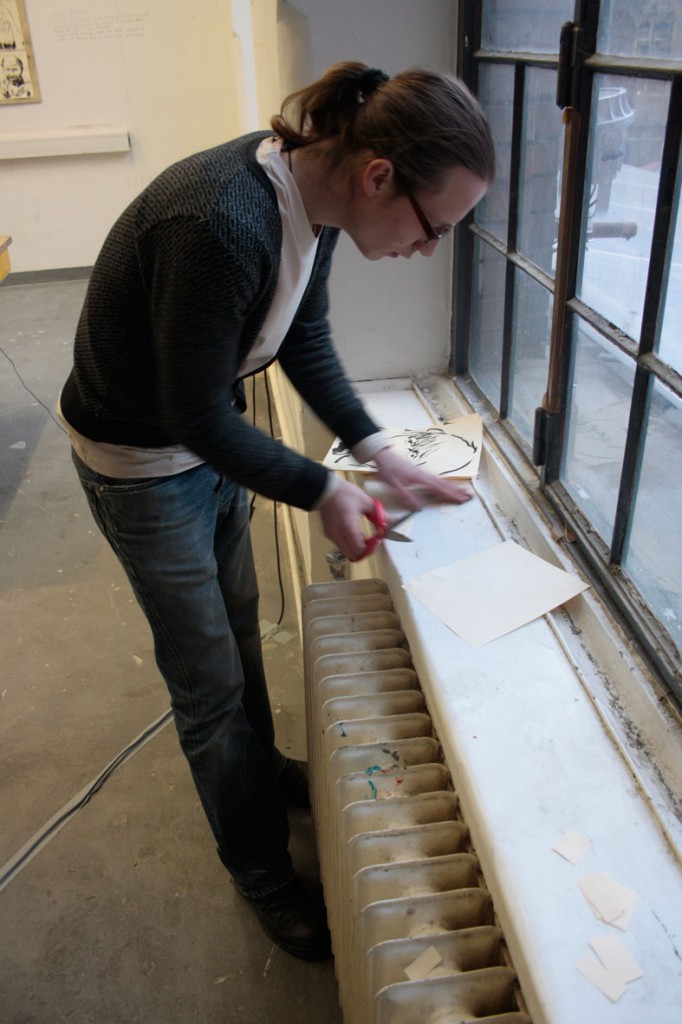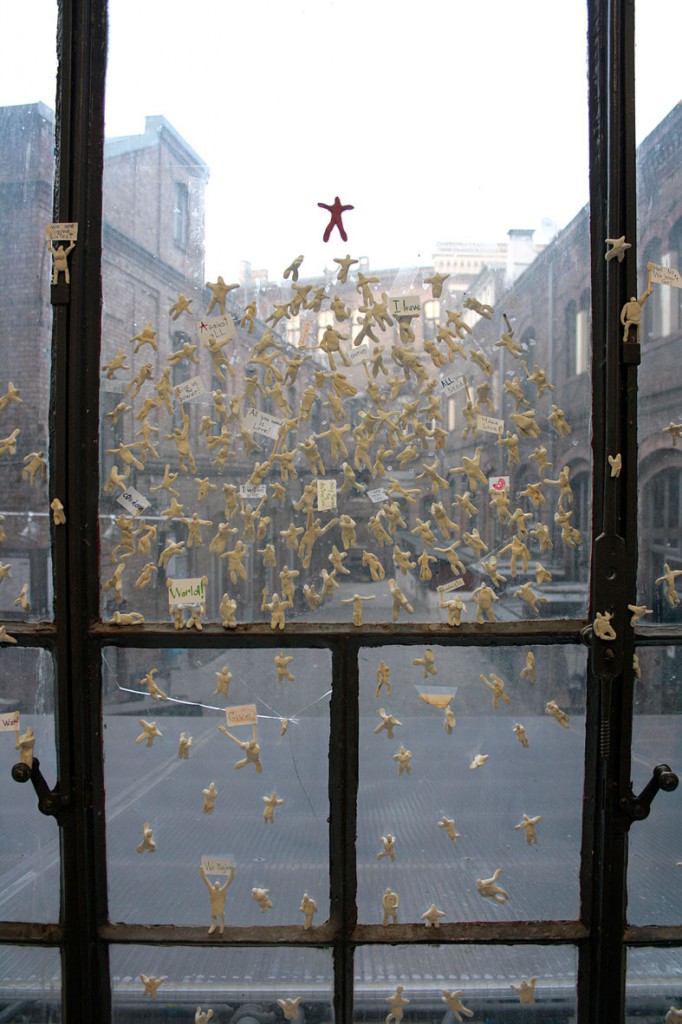 "Meeting"
Small white plasticine men are sticked on window glass. They are gathering into the shape of a triangle with the highest concentration of them on the top. Below the men, on the sill, there are small pieces of paper and pencils. A spectator may write his slogan and stick it to the little man.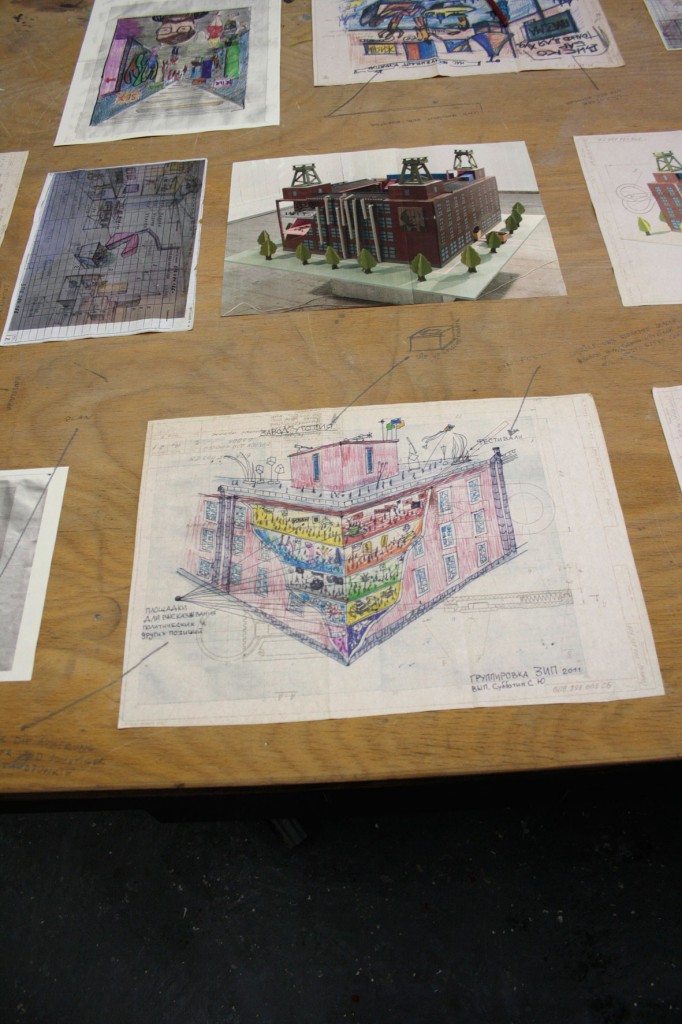 «Utopia»
The plant is completely self-sufficient, independent object, intended for autonomous existence of artists within it. In the plant, there is all you need for work, creativity and leisure activities: workshops for artists of different media, lecture, exhibition and sports halls, cinemas, platforms for free expression of political views, parks and fountains, libraries, restaurants, sexual services and so on.
The system of money relations is absent, it is replaced by barter: the art is exchanged for the necessary materials and food. At the factory, there is a separate entrance for collectors, gallery owners and dealers. It leads into a special exhibition hall, which hosts exhibitions of pieces of art created at the factory. In these halls artistic product is exchanged for food and supplies. There is a special entry for trains deliver all the necessary. Sometimes the state, on whose territory the plant, allocates food, materials, tools, as a grant for his achievements in art and culture.
Everything that the artists have to do – permanently artistry. An artist can manage his time on his own. Level of the artist's life will depend on the quantity and the quality of his artistic production. At the factory, there is a special store for the best works of art. Unclaimed art or art that Council recognized the poor quality may be recyclable. Members of Expert Art Council of the plant are elected by open vote from the most skilled artists.
All interested persons are entitled to apply for a plant. Any person who considers himself an artist, can fill out a questionnaire and enter the plant. But any artist can be expelled for lack of artistic production during the stay at the factory. The artist must create at least one work of art within six months. Violation of moral laws is considered in the context of art by an expert group.
Similar plants should be established in all countries. Buildings and territories of the former industrial enterprises can be used to create them. As a sample is taken Krasnodar plant instrumentation (ZIP). The facade of the plant remains unchanged, but the internal planning and structure is completely redesigned for the new needs.
This is a vertical installation, reminiscent of constructivist object – TV tower or ladder. At the top of the laptop with a webcam installed, it is broadcast via Skype conference with Krasnodar artists. In the middle of the construction of the projector, which projects a group of stocks spare parts made in the Krasnodar and related to the life of artists. It turns out that the top of the camera can see through the web portion of the space in which it is installed and the wall of the tower, which is projected onto the video. Turns a loopback.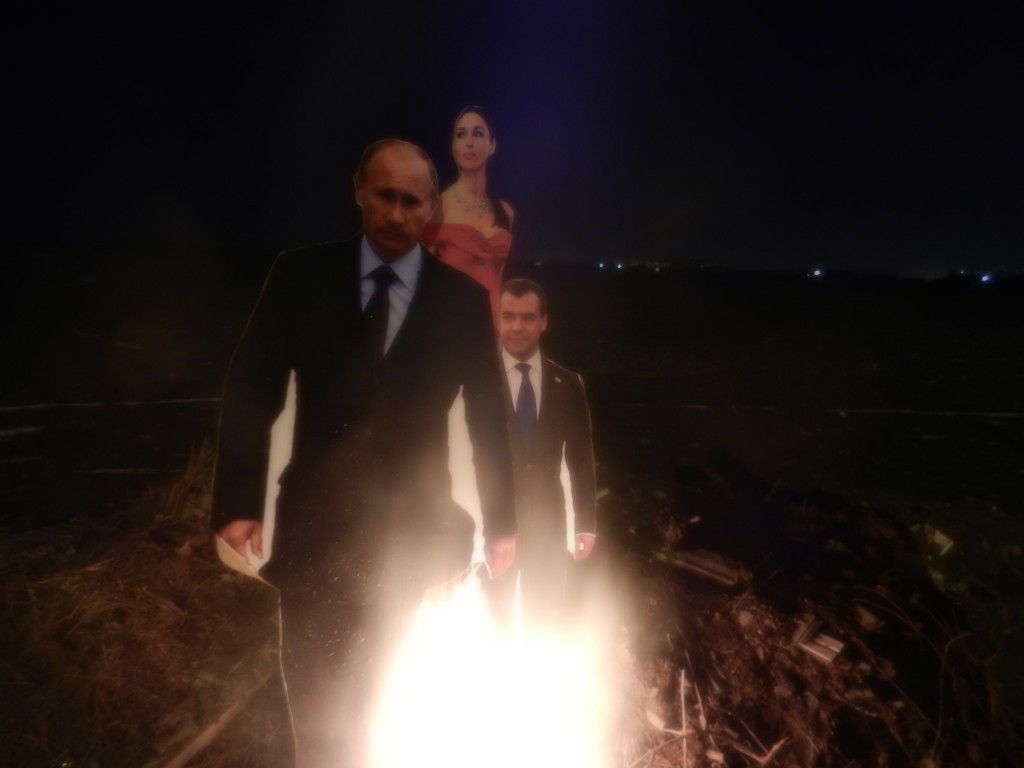 to be continued

Travel to Vienna was my first trip to Europe. I've been a little bit worried before my first meeting with the organizers Andrea and Klaus from Kunsthalle Exnergasse because I did not speak English in fact. I began to study it just after I found out that I'm selected for the residence. But our meeting was so much easy and friendly. I was surprised to have a translator from Russia – Natasha, she worked as an intern for the residency and I am very grateful to her.
I was living in a cozy apartment in Vienna, from where I could easily walk or ride a bike to my studio. It was located at WUK,  former locomotive factory with an interesting history where social activists took a space in the 80s and which is now one of the oldest and largest cultural centres in Vienna. I was very interested in the activities of this institution because we deal with quite similar things at the factory ZIP in Russia. Studio and the whole atmosphere in WUK felt like at our factory – large, comfortable spaces and I felt much of freedom. I loved nice neighbours who helped me with all the materials I needed for my artworks.
I saw such a different approach to culture in Vienna comparing to Russia. It attracts lot of attention, especially from the government as it seems. Art education is very different from Russian. It's much more democratic and based on a study of modern artistic language.
A trip to Graz became a good experience for me, – many interesting, vivid exhibitions were opened on the same day there. Graz is a small town, even smaller than Krasnodar, but even there is quite busy artistic life as it seemed to me. The city is full of impressive modern architecture and sculpture objects. This trip I remember by its pleasant friendly mood, talks with Margaret and being introduced to a local art audience. I was very pleased that <rotor> helped me to organize an exhibition in WUK, which was a result of my work in the residence. I got a chance to introduced our art-group ZIP to Viennese audience. At the exhibition, we tried to represent the atmosphere of our factory. We made  "Live broadcast" installation, which had linked WUK and ZIP through online broadcast. It was very cosy atmosphere at the vernissage, I had a feeling of home and liked it a lot.
Thanks to WUK, Thanks to <rotor>, Thank you Andrea, Thank you Margaret, Thank you Klaus, Thank you Lina, Thank you Natasha, Thanks to all the Vienna friends, Thanks!